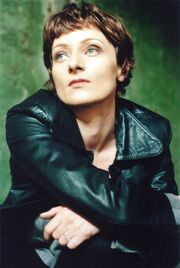 Yana Yanezic
(born December 12, 1974) is a Slovenian actress, model and dancer who played and voiced
Nadya Prushnatova
in
The Getaway: Black Monday
. She is trained in martial arts and weapons training which explains how she got the role. She has starred as a picture double in
Harry Potter and the Prisoner of Azkaban
. She has also appeared as an actress in television programs and films, such as,
Children of Men
,
Stiletto
,
The Saint
,
Who's Afraid of The Water Sprite
and
AmStarDam
. She has guest starred in ITV & BBC Dramas, such as,
The Bill
,
Waking The Dead
,
Evil Streak
,
Wire In The Blood
,
Casualty
and
The Game
.
She is a professional dancer, ice skater and trained in martial arts and tae-kwon-do. She is also a certified Stott Pilates Instructor and a certified Athletic Conditioning Specialist for professional dancers and elite athletes.
External Links
Edit
Ad blocker interference detected!
Wikia is a free-to-use site that makes money from advertising. We have a modified experience for viewers using ad blockers

Wikia is not accessible if you've made further modifications. Remove the custom ad blocker rule(s) and the page will load as expected.