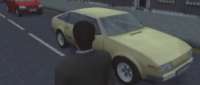 Another retro car, the Rover SD1 was built during the 1970's-80's and is a 5 door hatchback. There are two versions in the game, this being the standard, 3.5L non-customised version, hence has no spoiler. Aesthetically, it is a little Capri-esque in design (perhaps an alternative to the Ford Team Soho didn't have permission to include). It's actual design drew inspiration from the Ferrari Daytona mostly however with hints of the Pininfarina BMC 1800. It has average speed and ability. Also, it only seems to be common in the less upmarket areas, such as south of the Thames (Bethnal Mob area) and NE (Yardie Territory). 
The standard version, appears to be a MK. I, whilst the Yardie gang version takes cues from the face lifted model and the body kit seems to be 'Vitesse' ( a Rover trim level) model. The 'whale tail' spoiler however would be after market.
It also appears as a wreck in The Getaway: Black Monday. It is amongst the flats in the mission ' Tuesday' 
Ad blocker interference detected!
Wikia is a free-to-use site that makes money from advertising. We have a modified experience for viewers using ad blockers

Wikia is not accessible if you've made further modifications. Remove the custom ad blocker rule(s) and the page will load as expected.