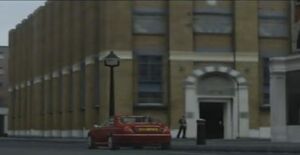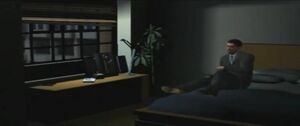 Mark's Apartment
is where
Mark Hammond
,
Suzie Hammond
and
Alex Hammond
lived together in
The Getaway
. It is only seen in the beginning cutscene of the game, during the mission,
The Frightener
. Suzie and Alex leave the apartment in the morning to head to school while Mark sleeps on his bed. The kidnapping of Alex takes place just outside the apartment, waking Mark up. Mark then jumps out of bed, rushes out of his apartment and heads outside to the street to find the dead body of his wife. The apartment is inside a block of flats which are located just on the outskirts of Soho. The apartment is not seen in the game again after this mission. In
The Getaway: Black Monday
a company called Loft Luxury Apartments is advertising Mark's apartment for sale. This makes sense given that if Mark did survive the events of The Getaway, then he would have left London for good.
Mission Appearences
Edit
Bizarrely, Mark sleeps on his bed in his suit. This does save him time however, when he heads down to the street to find the dead body of Suzie.
Ad blocker interference detected!
Wikia is a free-to-use site that makes money from advertising. We have a modified experience for viewers using ad blockers

Wikia is not accessible if you've made further modifications. Remove the custom ad blocker rule(s) and the page will load as expected.