London is the capital city of England and the United Kingdom. It is the setting of The Getaway, The Getaway: Black Monday, Gangs of London and The Getaway 3. During missions it can be difficult to explore London, it is much easier to explore London in Free Roaming. In The Getaway, there is no in game map to help you explore the city, you have to use the map provided in the game box to navigate your way around London. In The Getaway: Black Monday, like The Getaway, there is a map provided in the game box, but there is also an in game map which you can access whenever you pause the game and you can move this map around as well as zooming in and out of it.
Boroughs in The Getaway
Edit
The areas of London recreated for The Getaway series include: Marylebone, Mayfair, Westminster, Soho, Bloomsbury, St Pancras, Holburn, Lambeth, Southwark, Borough, Finsbury, Clerkewell, Shoreditch, Barbican, Broadgate and City Of London.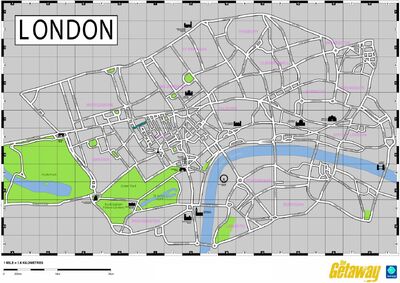 Ad blocker interference detected!
Wikia is a free-to-use site that makes money from advertising. We have a modified experience for viewers using ad blockers

Wikia is not accessible if you've made further modifications. Remove the custom ad blocker rule(s) and the page will load as expected.