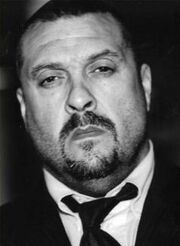 James "Jim" Darrah
(24 June 1960 - 23 August 2014) was an English actor, boxer and weight lifter who played and voiced
Grievous
in
The Getaway
. Like most of the other actors who play gangsters in
The Getaway
, he was an "Ugly Model". Other than
The Getaway
he also appeared in
Fool Britannia
.
On August 23, 2014, Jim was attacked outside a bar that he worked at as a bouncer. He was hit in the face and fell to the floor before being taken to hospital. He tragically died a short time later. He was aged only 54 at the time of his death.
External Links
Ad blocker interference detected!
Wikia is a free-to-use site that makes money from advertising. We have a modified experience for viewers using ad blockers

Wikia is not accessible if you've made further modifications. Remove the custom ad blocker rule(s) and the page will load as expected.