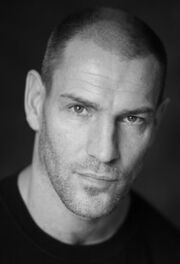 Dave Legeno
 (12 October 1963 - 6 July 2014) was an English actor and boxer who played and voiced
Eddie O'Connor
in
The Getaway: Black Monday
. He was born in Marylebone, London, England. Before he became an actor, he was a boxer and a heavy, similarly to Eddie O'Connor, the character that he played in
The Getaway: Black Monday
. Dave was one of the most famous actors to have appeared in
The Getaway
series. Dave was most famous for his role as
Fenrir Greyback
in the
Harry Potter
film series. He also appeared in
The Bill
,
Centurion
,
Outlaw
,
Elizabeth: The Golden Age
(alongside
Glenn Doherty
),
Alex Rider: Operation Stormbreaker
,
Batman Begins
and
Snatch
(alongside
Elwin 'Chopper' David
).
On July 6, 2014, Legeno's body was found by a pair of hikers in Death Valley, California, United States. The area was so remote a helicopter had to be called in to retrieve him. It appears Legeno tragically died of heat-related issues and may have been dead for three to four days before his body was discovered. He died at the age of 50.
Trivia
The first film Dave starred in was the 2000 London gangster film, Snatch. This is presumably how he got the role for Eddie O'Connor in The Getaway: Black Monday.
External Links
Ad blocker interference detected!
Wikia is a free-to-use site that makes money from advertising. We have a modified experience for viewers using ad blockers

Wikia is not accessible if you've made further modifications. Remove the custom ad blocker rule(s) and the page will load as expected.