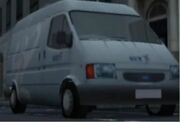 The BT Van is a van that only appears in the mission Filthy Business on the Pal version 1 of The Getaway. This van caused a huge controversy shortly after the game's release, when BT discovered the use of its name and logo on a mission, where Mark Hammond disguises himself as an employee to enter a police station and assassinate a corrupt officer. BT asked Team Soho to remove the vehicle, and hence an ordinary white transit appears in the edited version of The Getaway, released in early 2003.
Ad blocker interference detected!
Wikia is a free-to-use site that makes money from advertising. We have a modified experience for viewers using ad blockers

Wikia is not accessible if you've made further modifications. Remove the custom ad blocker rule(s) and the page will load as expected.