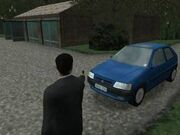 Another one of those small city cars that you always find cruising down the
side of the river. It is quite common but it can be found more in the east of London.
The speed is actually quite poor compared to the other city cars. It has a poor acceleration which is expected with a bad top speed... if you can call it speed.
The car won't last you long either. It will smoke badly after a few small scratches. Lets just say that the car won't be loyal to you if you're not loyal to it.
Ad blocker interference detected!
Wikia is a free-to-use site that makes money from advertising. We have a modified experience for viewers using ad blockers

Wikia is not accessible if you've made further modifications. Remove the custom ad blocker rule(s) and the page will load as expected.