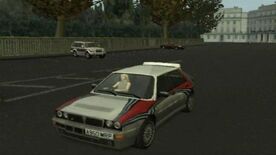 Write the first paragraph of your page here.
Lancia Delta Intergrale Rally 1991
Edit
Lancia Delta HF Integrale Rally Car Is the Rally version of the 
Lancia Delta HF Intergrale thats also in The Getaway:Black Monday
If you free roam with Zara, the Lancia should be straight down the road from her spawn location
Ad blocker interference detected!
Wikia is a free-to-use site that makes money from advertising. We have a modified experience for viewers using ad blockers

Wikia is not accessible if you've made further modifications. Remove the custom ad blocker rule(s) and the page will load as expected.